IT & Cybersecurity Services for Dentists, Orthodontists, and Oral Surgeons
We give you a range of IT & cybersecurity solutions to help you offer the best possible care to your patients.  
    Does the threat of a cyber breach of your practice's network have you worried?
    Do you want to ensure compliance with HIPAA and other healthcare industry regulations?
    Do you want to make the most of your IT investment and improve your technology systems' reliability?
Today, Dentists, Orthodontists, and Oral Surgeons rely on technology more than ever before to ensure that their patients get the best care available. Although IT helps you provide better patient care and perform efficiently, it needs planning, competent set up, proper configuration, proactive maintenance, and strict compliance with industry regulations. Veltec Networks will manage, maintain, and monitor your practice's technology infrastructure and have a team of engineers and technicians standing by to offer support whenever you require immediate assistance.
Schedule a free consultation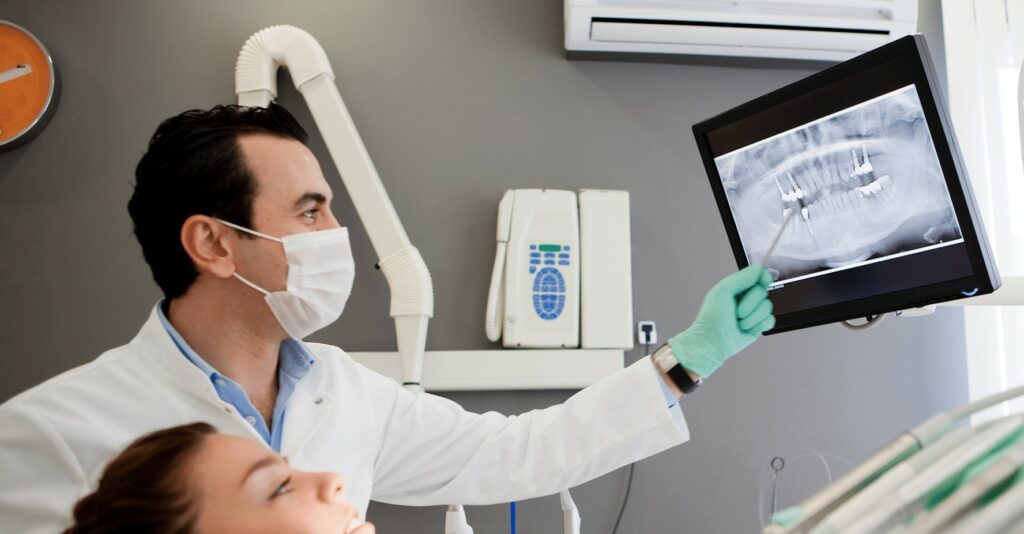 Why You Should Choose Veltec Networks to Handle Your Dental IT Needs
We use a precise onboarding process that starts with an assessment of a practice's specific technology needs. Our experts can then identify the challenges and inefficiencies that a dentist, front office, clinical staff, administrators, and management face and offer practical solutions. Veltec Networks will handle all aspects of your dental practice's technology to eliminate any distractions, letting you get back to delivering the best patient care.
    Keep your IT infrastructure at its peak performance
    Ensure the privacy of your business and patient records
    Protect your network and data from intruders
    Offer advice on the best technologies to boost your practice's efficiency
Technology Services We Offer To Dentists, Orthodontists, and Oral Surgeons
Veltec Networks offers the following tailor-made services to Dentists, Orthodontists, and Oral Surgeons in the San Jose area:
Managed Security Solutions
Due to the detailed and personally identifiable information in your patient records, they are an irresistible target for malicious players. Veltec Networks uses state-of-the-art technology solutions and our engineers' experience and knowledge to prevent unauthorized access that could cost you money and your reputation. In particular, we offer the following IT security solutions to dentists:
    Anti-malware systems
    Firewalls and network solutions
    Penetration testing
    Incident protection planning
    Business continuity and data backup
Compliance Solutions
The Federal Health Insurance Portability and Accountability Act (HIPAA) regulations require all healthcare providers to ensure patient records' security and privacy. Numerous dental practices today enjoy full HIPAA compliance thanks to our expertise. We can make your practice compliant by ensuring that all of your communications systems as well as any processes that collect, transmit, and store your patients' records, including the measures you need to take to achieve and maintain HIPAA compliance. Specifically, we carry out the following:
    Security evaluations of your IT systems
    Provide secure, compliant digital records storage
    Align your patient information handling procedures with HIPAA regulations
    Offer compliance awareness training to your technical staff
Technical Support Services
For most dental practices, it is not feasible to keep a full-time technical support expert on staff. Even if your practice can afford one, a single IT employee cannot stay up to date with all the technological advancements you need to run a successful practice. Besides having a large team of experts from different technical fields, Veltec Networks has long-standing partnerships with leading dental technology vendors to ensure that we provide cost-effective IT support. Our IT support solution includes:
    Hardware setup
    Software installation
    Network monitoring and management
    24/7 support desk
Technology to Help Dentists, Orthodontists, and Oral Surgeons
Since 2007, Veltec Networks continues to lead the way in offering reliable technology solutions for dentists, orthodontists, and oral surgeons. We are a top managed IT solutions provider with years of experience supporting medical practices of all kinds. Contact our experts today, and let Veltec Networks help you grow your business and offer superb patient care through our customized, innovative solutions.