How You Can Mitigate It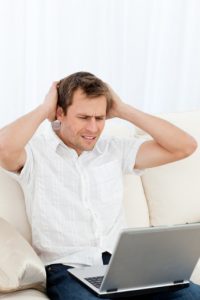 Many startups and small and medium-sized businesses believe they are at a disadvantage when it comes to protecting their companies from IT downtime. They are not in a position financially to have a robust IT function as part of their organization. In fact, IT tasks may fall to a clerical or secretarial person by default.
This is unfortunate; almost every business is using an office suite, accounting software, point-of-sales data, and program suites needed for their particular industry. Without an IT department, how can a company make them all work together without gumming up the IT needed to operate?
Statistics Tell What Causes Downtime with the Greatest Frequency
In 2013 a survey report was issued by Quorum, a data recovery service. It details the common reasons for a computer system to fail and have downtime. Let's take a look at them.
Hardware Failure
With 55% of survey respondents citing hardware failure as their top reason for system failure, many small and medium-sized businesses incorrectly believe that because of their multiple redundancies of key components they have nothing to fear concerning a hardware failure. Unless they have a means to see into the future, they cannot know what is around the corner. It just might be squirrels in the basement that eat through the cabling for your system. Especially vulnerable to hardware failure incidents are storage-area networks (SAN). If you, like most other businesses your size, use a large SAN on which all storage servers dump data to, you are inviting a major problem – if your SAN is suddenly mortally wounded and gives up the ghost, it also has given up your company's entire computing environment.
Downtime is costly; as far back as 2011, Symantec said that each day small businesses lose $3,000 when their systems incur downtime.
Human Mistakes
With 22% of respondents saying that human error is their primary concern for computer downtime, it is second, but with a wide margin, it is clearly more than half as likely a scenario for a computer disaster. Since the first computer system became operational, right up to today, if humans use a computer system, they will eventually make a mistake that could wipe out all of your firm's data or programs.
Failure of Software
The third-ranked reason for a computer meltdown is software failure, which received 18% of votes. One reason that experts say causes this is the multiple patches on operating systems and programs running on those systems. Unintended consequences of software fail include:
Corruption of software.
Patched systems and programs may no longer operate properly or cause companion and dependent systems to fail after installation.
Malware and viruses mistakenly downloaded by employees that can steal your data or encrypt it so you cannot use it without paying a ransom (this is called ransomware).
How to Cope with Information Technology Issues
Actually, you shouldn't need to 'cope' with IT issues at all. Hire a managed service provider (MSP) for IT, even if the only time you use the company is for data protection and security. Following are the ways an MSP can be a significant force in your battle against downtime. One service offered by an MSP is remote monitoring and management (RMM). Some components of RMM are below.
When you hire an MSP for RMM you get a lot of benefits. These benefits include:
Round-the-clock always open Network Operation Center (NOC); and
A help desk that operates the same hours as the NOC;
A remote additional backup system hosted at the NOC.
Top quality software that is downloaded to your system for antivirus, anti-phishing, Trojan horse viruses and more. These programs are updated daily so that the latest malware and virus signatures are available for the surveillance of your company's IT system.
Once alerted, the NOC takes appropriate steps to eradicate the virus or malware from your system or install a fresh backup of your system and files, so that time lost is limited.
Veltec Networks is the trusted choice when it comes to staying ahead of the latest information technology tips, tricks and news. Contact us at (408) 849-4441 or send us an email at info@veltecnetworks.com for more information.