If you're using Office 365 or another Microsoft Exchange-based email service and you're looking to share your calendar with people both inside and outside your company, Outlook and Outlook Web App are your answer.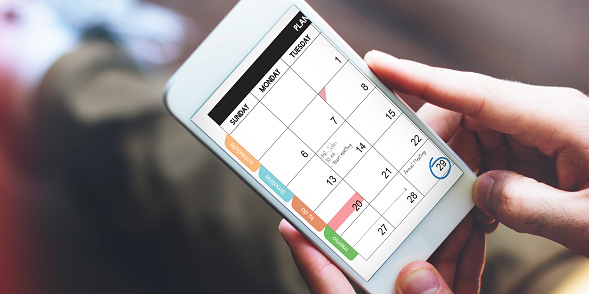 When you share your calendar internally, those you share with can add it to their own calendar view in Outlook or Outlook Web App—and you can regulate their viewing, editing, and representation permissions easily within the app. Those outside your company receive a URL to use as a calendar-viewing link.
How Do I Share My Calendar With People In My Company?
1. Sign in to Outlook Web App. If you're an Office 365 user, log in to the Office 365 portal. Go to Calendar > Share.
2. Type the email address or name of the person you plan to share your calendar with in the "share with" text box.
3. After choosing your recipients, indicate their permissions settings.
Full details show all information including subject, time, location, and other details pertaining to any of the items in your calendar.
Limited details reveal the time, location, and subject only.
Availability only limits the information displayed to the time of the events on your calendar.
You can modify permissions to give others the ability to edit your calendar by using the Editor or Delegate functions. Editors can only edit the content of your calendar, while delegates act as your agent and can send and respond to meeting invitations on your behalf.
4. The default privacy setting on your primary calendar is "shared." If you have multiple calendars, you can select a different calendar to share.
5. After choosing whom to share your calendar with and deciding on permissions, complete the process by choosing send.
Those you decided to share your calendar with will receive an invitation to access and view your calendar. On the recipient's side, the email invitation has buttons that allow the user to choose whether to add your calendar to their calendar view and share their calendar in return. The email includes a link to the calendar as well.
Collaborative Benefits of Shared Calendars Powered by Office 365 Features
If you're sharing a calendar across an organization, you want it to be as accurate and updated as possible. Office 365 constantly updates your events and syncs calendars, emails, and contacts across all devices in real time—so everyone involved knows exactly what's going on, no matter where they are or what device they are accessing the calendar from.
Easy Scheduling and Status Indicators Keep All Users Connected in Real Time
Shared calendars allow users to easily tell one another if they are free or busy. Scheduling a new event is simple from any device and from any location, and sharing that event is as simple as sending an email.
Remote Security Features Keep Private Company Information Safe
With Office 365, you have the remote capability to delete and wipe clean all data on the stolen device immediately, keeping your valuable company data safe and secure.
If you're looking to take advantage of all the benefits of a collaborative business app that includes calendar, email, file storage, and productivity software, consider migrating your business to Office 365 for the ultimate in cloud-based functionality.
Veltec Networks is your local IT business productivity, Office 365, and cloud software experts. We specialize in helping businesses seamlessly migrate to Office 365 in the cloud, and we are always on top of the latest innovations in cloud technology and business IT security and developments. Reach out to us at (408) 849-4441 or send us an email at info@veltecnetworks.com for more information.