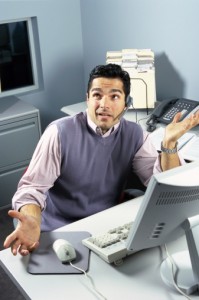 Such a dangerous sentence, yet so widely used. Small businesses tend to think they are invincible when it comes to cybercriminal attacks and this couldn't be further from the truth. In fact, you are at risk every single day you refuse to upgrade your security systems. Your small business might as well have a red target painted on the front because that is exactly how cybercriminals perceive you. Small businesses are actually becoming a favored target due to lack of awareness to the threats surrounding them.
Ransomware,
Identity Theft,
Fraud,
Malware,
Hackers,
Human Errors.
Those are just to name a few. You still have a long way to go with implementing risk management and that's exactly what we do for you. Not everyone is a techie, or completely comfortable with the management of their IT infrastructure, and that is why it is so important to reach out and leave it to the professionals.
It all starts with a plan. Your business is unique, and we get that. Every IT management infrastructure is shaped to fit your business needs, and here is how to do it:
Create a Cyber Security Plan.
Initiate and enforce strong passwords throughout your entire business.
Install security software: anti-virus, anti-malware, anti-spyware, and encryption.
Limit employee access, ensure you know who has access to what at all times.
Educate your staff. Implement awareness throughout your whole business.
Use Mobile Security.
Implement BYOD rules and restrictions.
Embrace encryption and strong passwords.
Enforce employees to always update to the latest security software.
Avoid the storing of any confidential information onto the mobile device.
Be Proactive.
React quickly to external and internal threats because timing is crucial.
Concentrate on your business while IT security professionals keep you safe.
Remove all employee accesses as soon as they are finished with the company.
Do what's best for your company and go beyond the protection of firewalls and antivirus software. Eliminate vulnerabilities and build a stronger, more trustworthy reputation.
Start with Veltec Networks to help you get back to what's important. Call (408) 849-4441 or email us at info@veltecnetworks.com to find out more about what we can do to manage your entire infrastructure – keeping you safe while helping you operate more efficiently.