Every business owner would love to know exactly where his company is headed in the future. An ability to predict upcoming events and challenges would make it quite easy to keep things running as smoothly as possible. Unfortunately, you can't say for sure where your business is going or what types of information technology roadblocks might pop up in the future. This uncertainty is exactly why a strategic IT plan is necessary for almost every type of business.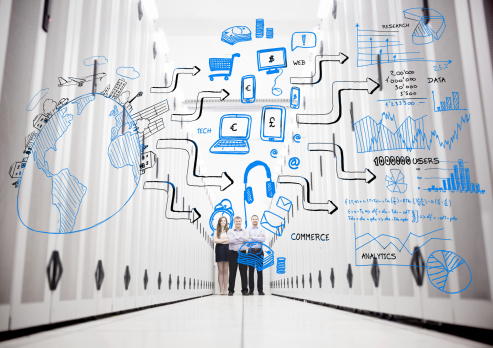 A Strategic IT Plan Prepares Your Organization for the Unknown
A well-formulated IT plan will put your business in a position to handle potentially disastrous scenarios that seemingly pop up out of the blue. It establishes standard operating procedures, assigns responsibilities to appropriate parties and generally helps the business brace for inevitable change. It is quite surprising that a good portion of contemporary businesses lack a detailed IT plan. Those that have one firmly in place and continually modify it across posterity enjoy a significant competitive advantage. Your company's IT plan really will result in a myriad of creative and innovative ideas that drastically improve your organization's core framework.
Create Your Own Future Rather Than Letting It Happen to You
The development of a realistic IT plan is a proactive measure as opposed to a reactive one. Organizations without IT plans "play it by ear" and attempt to pivot operational efforts/financing when necessary. This is a reactionary or defensive measure. It is up to you to do the opposite. Go on the offense. Formulate a detailed IT plan and your organization will be much more thoroughly be prepared for whatever comes down the pipeline in the future. In a nutshell, your strategic IT plan empowers your organization to avoid becoming a victim of its circumstances. Sure, you can't predict every possible happening, yet you can analyze previous years' data and future expectations to develop a well-rounded IT plan. If major events unfold, you can always alter your IT plan to suit the market conditions.
An IT Plan Establishes a Clear Direction for Your Business
Develop a comprehensive plan for your IT operations and it will serve as a means of steering your business in the right direction. The plan will define IT objectives and goals that jive with your business' mission. It is the base from which your IT progress will be gauged. It also sets boundaries for critically important decision making. Its detailed content will help you determine the amount of financial resources and human capital necessary for certain projects. The result is a sense of empowerment and enlightenment that allows you to distinguish between good ideas, bad ideas and great ideas. This is the type of clarity that your business has likely long needed.
Separate Yourself From the Pack
Too many business owners and managers copy other firms' IT plans or "wing it". Relying on other organizations' IT strategies is a recipe for disaster. Each business is extremely idiosyncratic in terms of operations, clients, personnel, goals etc. Do not attempt to duplicate the IT plan of another company. Doing so involves minimal (if any) strategy. Take the time and money that is necessary and build a customized IT strategy that accounts for all of your business' particular IT nuances. This is how you retain clients, attract business partners and keep the doors open.
Let Us Help You Build an IT Budget That Puts Your Company in a Position to Succeed
Veltec Networks is the trusted choice when it comes to staying ahead of the latest information technology tips, tricks and news. Contact us at (408) 849-4441 or send us an email at info@veltecnetworks.com for more information.