Data backup is a requirement, especially when managing sensitive information. If primary versions of the data are lost, backup systems can recover the information. Server virtualization is emerging as an excellent option in disaster recovery due to its lower cost and improved recovery times. The chance of a massive systems failure is the top priority for many companies and individuals alike. This includes everything from a disk crash to a data center being struck by a meteorite. Although improbable, it is still important to be prepared for any issue.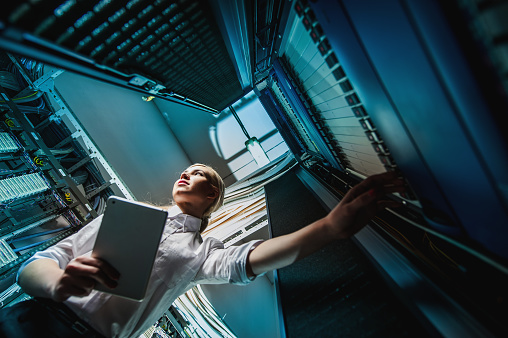 Previous Process
Prior to virtualization technology, if a server crashed, the following steps would be taken. First, a new server would be ordered unless there is a backup on hand. Once received, all systems would need to be reinstalled with previous settings. For critical systems, a "hot" standby would be used, which is a backup server that is ready with all settings; this would double the cost. Finally, the most recent data backup would be restored, most likely as far back as the end of the previous business day. Any data that was in memory during the time of failure would be lost.
Virtualization Advantages
The increasing use of virtualization is changing the way in which disaster recovery is executed. In the virtual environment, systems have the ability to recover data simply by duplicating images of entire virtual machines and then recreate them in a different location. Virtualization is now offering information technology professionals more advantages:
Data can easily be backed up as an image on the virtual machine (VM)
The physical server does not need to be rebuilt as the VM can be recreated in compatible environments
Costs of redundant systems will be eliminated
Faster recovery time objectives can be easily achieved
Quicker and easier recovery
VM Suppliers
There are several approaches offered by the leading suppliers through the disaster recovery as a service (DRaaS) model. Suppliers, such as Microsoft Hyper-V, VMware and Citrix Xen provide VM replication services already embedded in their products, which are tightly integrated into the hypervisor thus limiting the backup to a single virtual landscape. Unfortunately this does not allow them to achieve continuous data protection performance which minimizes RPO's and RTO's.
Another product that tightly integrates VM replication is EMC's RecoverPoint, which supports the recovery of multiple VM's and coordination replication. This allows the system to ensure VM's running different applications are consistent with a database VM. The Zerto product minimizes the impact on the runtime environment and supports VMware but is working to add Hyper-V and Amazon Web Services. This will allow support for a failover from in-house systems to a non-VMware-based system.
There are several new suppliers who are emerging in the industry as virtual environment backup professionals. Veeam, a Swiss-based firm, launched its first product in 2008 which supports Hyper-V and VMware. Nakivo, which was founded in 2012, only currently supports VMware, but its products have been built specifically for a virtual environment. The only real difference between the traditional and new suppliers is their capability to support older physical environments and new virtual platforms. This is the situation in most organizations so the VM systems are typically used for migration thus involving backup of a physical server and restoring the system as a VM.
DRaaS Providers
As a result of the widespread virtualization implementation, many providers have moved to DRaaS, which takes the customer out of the mix and provides a seamless service. Many cloud/hosting service provider's offer this feature, such as NTT Communications, as well as disaster recovery specialists like SunGard and IBM. DRaaS providers delivery exceptional value due to their offerings, such as guaranteed recovery, nightly testing and support for Hyper-V, VMware and Xen.