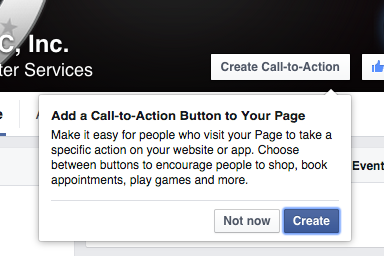 Facebook is making business pages even more convenient by officially announcing the introduction of call-to-action buttons. The feature has already been rolled out throughout the U.S and is beginning to become available around the globe. As part of their official announcement Facebook said that 7 possible call-to-action buttons will be available. They include:
The new feature was designed to help businesses make their directives clear and easy for visitors of the page. Admins of a page decide where the call-to-action button will lead when a user clicks on them – they can link to any destination on or off Facebook that's related to a company's goals.
When online retailer Dollar Shave Club began testing their call-to-action buttons, their director of acquisition reported that over three weeks, the Sign Up button delivered 2.5 times higher conversion than other social tools used to promote user acquisition.
Keeping on top of the latest technological advancements will help your company thrive and find new business, and by the looks of it, this is certainly a helpful new tool.
For more tips on how to take your business to the next level contact us and we will point you in the right direction.