Get tips on how to use Google Hangouts Meet to hold meetings online. Safeguard productivity and support a mobile workforce during COVID-19 with Google Hangouts.  
School closures, self-quarantine, and serious health concerns due to COVID-19 are sending unprecedented numbers of people out of their offices and into their homes. If you want your business to stay productive during this time, you need the right tools and strategies, and products like Google Hangouts can help you hold meetings, run training seminars, and facilitate other types of communication with remote workers.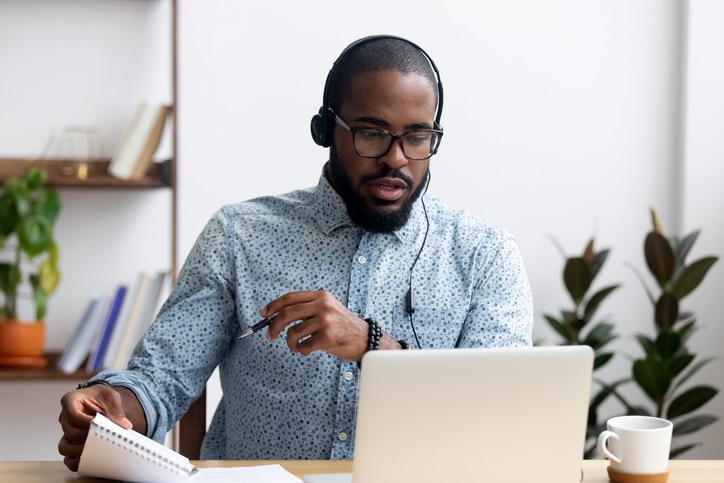 Google Hangouts
Google Hangouts lets you quickly turn any conversation into a video call. With the free version of Hangouts, you can bring together up to 10 people for a video conversation through a web browser or a smartphone app.
The conferencing app for corporate Google accounts, Hangout Meets offers more advanced capabilities, and Google recently announced that it will be offering premium features to all GSuite and GSuite for Education customers through July 2020. This version of Google Hangouts lets you hold meetings with up to 250 people, broadcast live streams to up to 100,000 viewers, and record meetings and save them to Google Drive.
How to Set Up a Google Hangouts Meeting
If you're using the free version of Google Hangouts, you simply go to the Google Hangouts website on your browser or open the app on your device. Then, you can initiate a call by clicking one of your contacts or entering the phone number, email address, or name of a new contact. You can opt between messaging, voice calls, or video calls.
To communicate over Hangouts Meet, you need to sign up for this product. Then, you can set up meetings through the app's web interface and send out email invitations to your conference calls. Or, for a more streamlined process, you can create, invite participants, and join meetings directly from your Google Calendar.
You simply create an event on your calendar and select "add conferencing," and then, the app generates a link to the meeting. When you share the event with participants, they see the name, date, and time of the meeting as well as the event organizer and the meeting's link. The calendar also creates a call-in number for people who want to join the meeting but don't have internet access.
Cybersafety and Online Meetings
To ensure your privacy, Google encrypts all video and audio streams in Hangouts and Hangouts Meet. Regardless of where your team is located, you can rest assured that your meeting is secure. Keep in mind, however, that if you're using other tools for collaboration or to access data remotely, you may want to work with a San Jose computer network security company to ensure you are as safe as possible.
Tips for Online Meetings
Once you find the right tools to host online meetings, you should take some time to refine your communication strategies. Holding meetings online can be challenging if you are used to meeting in person. For best results, keep the following tips in mind:
Choose a facilitator to guide the conversation and keep an eye on group dynamics.
Encourage participants to wear headsets to improve the audio.
Advise people to mute their microphones when not talking to reduce static, feedback, and unnecessary noises.
Use a speaker queue or invite participants to raise their hand and wait for recognition from the facilitator. These basic rules can help improve the flow of the meeting and minimize talking over each other.
Consider shared note taking. While using Hangouts, open a shared Google Doc so you can take notes together.
If possible, consider using wired internet connections instead of WiFi or cell data.
Ask participants to close all other windows or apps so they don't compromise their bandwidth and threaten the quality of their video feed.
To improve visibility, talk with participants about the importance of positioning lights or windows behind the camera.
To get help holding meetings online or to make the leap to a mobile workforce during the coronavirus, contact us at Valtec Networks today. We are a San Jose computer network security company that provides IT services and support to firms throughout San Jose and the San Francisco Bay Area.