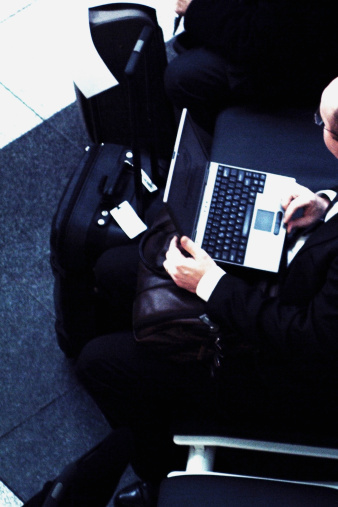 Many business professionals travel and conduct business using open wireless networks and hotels, coffee shops and other wireless networks. Often, business professionals are found sending a last-minute email, connecting to CRM systems and even conducting financial transactions using the same public Wi-Fi systems available at airports around the country.
Chances are, you're one of these people with your laptop, handheld device, or tablet. However, do you know how safe the airport's wireless security is? How can you protect yourself and your private information from identity theft, fraud, and various other cybercrimes?
According to a recent study, airports are known for having phony Wi-Fi hot spots created by phishers and other criminals. While you're travelling and using the Internet at an airport, your personal information, such as passwords and credit card numbers, is passing through an unprotected network.
There's a variety of reasons for this security issue, including the cost of securing a public area as big as an airport. However, there's a few ways to lower your risk. Here are some of the top tips to keep your personal information secure while you're traveling:
Secure Your Tablet and Mobile Device
Norton Mobile Security can be a great tool to avoid potential fraud. It prevents strangers from being able to use your device if it gets stolen or lost, as well as detects and eliminates mobile threats. In addition, Norton Mobile Security will block unwanted texts and calls, while providing anti-phishing web protection at airports and other public Wi-Fi areas.
Use a strong personal firewall such as Norton Internet Security. With four layers of smart protection, this product will proactively detect and eliminate threats before they reach your computer. While you're at the airport, Norton Internet Security prevents hackers from stealing your information.
Always use strong passwords on your tablets, laptops, and mobile devices. Learn your phones ESN (electronic serial number), as it comes in handy if your device is lost or stolen. In addition, change your network configuration to manually select wireless networks, instead of automatically join them.
Prior to your trip, back up your files, personal data, and programs. Both Norton Internet Security and Norton 360 have backup options available, including the "cloud".
You should make sure that any Bluetooth devices are "hidden", not "discoverable"; or turn off the Bluetooth function altogether. Disable geo-tracking on your mobile devices as well.
Protect Your Children's Electronics
If your children are using laptops, tablets, or smartphones; make sure their devices are secure with proper security software as well. For laptops, Norton 360 allows children to surf the web safely, while protecting their laptop from malicious websites. For phones and tablets, Norton Mobile Security provides adequate protection.
Tips for Traveling
1.     Make Sure File Sharing is Turned Off
While you're at the airport, it's a good idea to turn file sharing off. If you have sensitive data, consider finding another place to store it.
2.     Discuss Safety Measures with Your Children
Provide information about safe Internet use in a public place. Make sure they're not sharing user names and passwords, and encourage off-line games and videos as an alternative to online activities.
3.     Avoid Financial Transactions Online
If possible, complete all your financial activities before you arrive at the airport. If you can't avoid paying a bill at the airport, fill in your personal information ahead of time so you can avoid entering user names and passwords on a crowded airport Internet connection. At the airport, and public Wi-Fi areas, assume the connection is vulnerable and unsafe.
4.     Watch Out for "Shoulder Surfers"
Criminals are aware of people who are so absorbed into their online activity that they neglect to notice someone taking note of passwords over their shoulder. These identity thieves are often found at crowded areas, such as the airport, hotel lobbies, or restaurants. Be aware of your surroundings.
If you're careful about your Internet use while traveling, your trip won't be ruined by airport Wi-Fi insecurity. Stay protected and remain aware of the potential dangers.
Before you travel, especially over the holidays…call Veltec Networks.  As your trusted San Jose IT experts we can make sure your systems are secured and if you need to use wireless networks at the airport, you can feel confident that you are secured.  Call us today at (408) 849-4441 or email us at info@veltecnetworks.com.