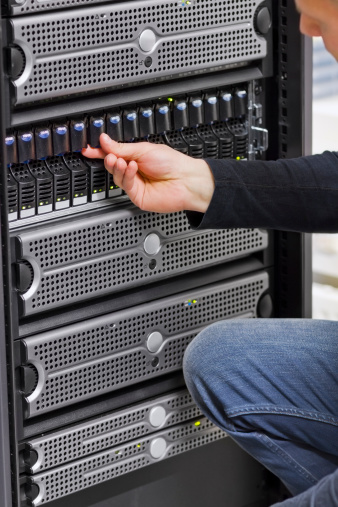 Businesses are going virtual with Our VMware Virtualization Service! VMware Virtualization allows you to virtualize your entire IT infrastructure, or specific aspects of it, so you can run multiple operating systems and applications at the same time.  This increases the efficiency of your IT system, your employees' productivity, and saves you money on expensive IT equipment.  
How Does Virtualization Work? 
A virtual machine (VM) is a tightly isolated software container that can run its own operating systems and applications, and acts just like a physical computer. Many virtual machines can run on a single computer at the same time. A hypervisor is used to separate the virtual machines from the host, distributing computing resources to each virtual machine as needed.
Types of Virtualization 
Server consolidation uses computer server resources efficiently so the total number of servers or server locations is reduced. You can virtualize one or two servers, or aggregate a server cluster into a consolidated resource. Server consolidation reduces your hardware count and the costs associated with it while increasing the performance of servers.
Storage consolidation combines data storage among multiple servers. VMware virtualizes your storage by combining your existing server disks into a shared group, without the cost of purchasing a SAN (storage area network) system. Storage consolidation increases your IT efficiencies because the time required to access and store data is reduced.
Desktop virtualization is used to separate a computer desktop environment from the physical computer. Your employees use a virtual desktop in the same way they would a physical one. Virtual desktop solutions increase business flexibility, reduce costs, and simplify management.
The Benefits of VMware Virtualization
With VMware Virtualization you can deploy applications faster while increasing performance and availability, resulting in IT that's simple to implement and cost-efficient to run. Veltec Networks's VMware Virtualization Service provides many benefits for businesses in San Jose, including:
VMware Virtualization from Veltec Networks reduces capital expenses through server consolidation, while operating expenses are reduced through automation. VMware Virtualization also minimizes lost revenue by diminishing downtime.
VMware Virtualization from Veltec Networks increases productivity through rapidly deployed applications, thus improving availability and performance of IT systems. VMware Virtualization also offers secure access to information from any device.
Focus on Core Competencies
Veltec Networks implements, manages, and monitors your IT systems to ensure minimal disruption and downtime. We offer 24/7 computer support for you and your staff so you receive the fastest response time possible. With Veltec Networks managing your IT systems, you can focus on your business, not IT.
Looking for an IT solution to help you improve productivity, reduce costs and diminish downtimes?  Veltec Networks's VMware Virtualization Service does all this. For more information, give us a call at (408) 849-4441 or send us an email at: info@veltecnetworks.com