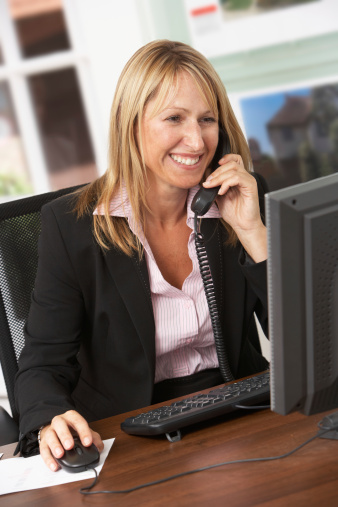 New technologies have improved the way business is done in the real estate industry, — for both consumers and agents. Technology provides ready access to information for consumers, such as listings, prices, neighborhood demographics, and mortgage rates, both locally and nationally.  Consumers can now shop online to find the lowest interest rates and the best-priced properties in an effort to save money.
This increased access has led more well-informed consumers, and with this comes increased demand for specialized and enhanced services from real estate agents. The use of innovative technologies has also increased competition for agents as more are using technology to market their services and list properties. Agencies are using information technology to attract new buyers/sellers, reduce marketing costs, and close property deals in a timely manner.
To compete in this technology-driven market, real estate agents and brokers must use up-to-date technologies to attract consumers. The following are the primary ways a real estate agency can compete using information technology:
Cloud computing allows an agency to cut operating costs with online document and communication services. With an Internet connection or a smartphone clients can securely view photos or important documents, regardless of their location. Agents can do the same, operating remotely from their home or on the road.  This frees up the need for office space thus reducing operating overhead.
Real estate agents need reliable, secure access to information. It's essential to safeguard data generated from records, notices, and other legal documents. When a real estate agency experiences a loss of critical data whether it's from human error, cybercrime, power outages or a natural disaster, sales come to a grinding halt.  A properly designed and implemented data backup and recovery solution can prevent this and ensure business continuity.
Real estate agents can now serve clients when on the go. Mobile devices like tablets and smartphones allow agents to access information at any time, from any location. Real estate agents are constantly on the road and rely on mobile devices to stay connected. However, security of data can be an issue when using mobile technologies.  Agencies should implement and deploy mobile device management solutions to secure, monitor, and manage mobile devices to ensure critical data is protected.
As the real estate industry takes advantage of technology advancements, its primary focus continues to be the delivery of information to clients. Information technology allows real estate agents to provide information to clients exactly when they need it, therefore bringing agents closer to their clients and improving the sales process.
To learn more about how up-to-date information technology solutions can improve your real estate business, and help you compete with others, give us a call at (408) 849-4441 or send us an email at info@veltecnetworks.com.
We are your real estate IT support experts.