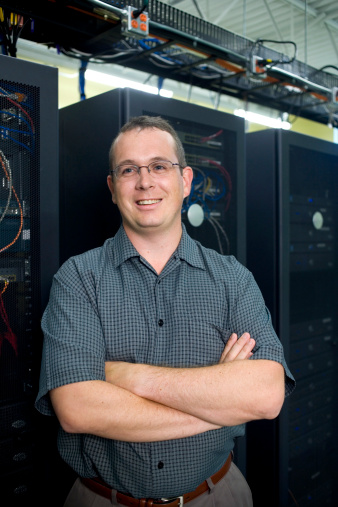 As a business owner, the decision between outsourcing vs. in-house IT support can be difficult and time consuming. Ultimately, you want to choose the most effective way to support your IT systems and end-users. But how do you know which option is the most effective for your business?
Let's start by defining the word "outsourcing," which happens to be an inconsistently used term. Outsourcing typically involves contracting a business function out to an external provider. When it comes to IT support, the business function is managed services.
Today, businesses depend on technology and computers. The more we integrate computers into the business process, the more we tend to rely on them. From sales to support, manufacturing to accounting, we use technology to make all sorts of business processes simpler and easier to manage. However, we need to make sure these processes are available.
How can we ensure business processes are always available? Whether outsourced or in-house, we require IT support to maintain the availability of our systems. While the idea of an in-house IT staff may seem convenient, few individuals are experts in all areas and available 24/7. If you manage to acquire an in-house IT staff with knowledge in all areas and availability whenever necessary, it's going to be extremely expensive to maintain this staff.
For most businesses, outsourcing IT support might be the best solution. In fact, outsourcing IT support has many benefits for businesses looking to handle IT issues at an affordable cost. Here are the top 10 reasons to outsource your IT management and support:
Cost Savings
An in-house network administrator can cost your business an average of $60k per year. Of course, you may be able to find a cheaper network administrator, however, IT requires skill and expertise to be effective. Any skilled and knowledgeable network administrator will be expensive to hire. In addition, there are additional costs on top of salary to consider. For example, holidays and the coverage necessary while your IT admin is away, as well as ongoing training and management overhead costs.
When you hire an in-house network administrator, you should expect to pay an average of over $100k per year with the salary and additional costs. In comparison, outsourcing is an efficient way to cut IT costs while ensuring effective services and support.
Outsourcing can reduce operating costs because you don't have to pay for benefits, training, and education costs associated with full-time in-house positions. An IT provider is already trained and certified to handle your IT infrastructure at a fraction of the cost.
Experience and Skill
Outsourcing your IT support allows you to take advantage of a greater knowledge base. An IT provider has multiple techs with multiple skill-sets, whereas an in-house IT staff has two or three individuals with limited skill-sets.
Most businesses outsource IT support to an IT provider for this primary reason. When IT issues occur, an IT provider can send a technician with specific experience and skills related to the problem.
Focus on Core Business
Your resources should be used to attend to core business functions, as well as customers' needs and requirements. Outsourcing IT support allows you to focus on core business operations, instead of dealing with the day-to-day hassle of computer network problems.
As a business owner, it can be tempting to want to do everything yourself, especially if funds are limited. The last thing you want to do is incur added expenses, however, outsourcing saves money by freeing up your staff to focus on their core competencies. When you dedicate your staffs' time and strengths to their core competencies, you can derive the greatest benefit from their talents.
Improved IT Performance
One of the biggest benefits of outsourcing IT support is improved network performance. Often, in-house technical staff can create new problems by overcomplicating basic configurations. This is due to the lack of skill and experience compared to an IT provider with multiple technicians and skill-sets.
An outsourced IT staff provides a higher level of accountability. IT providers strive to carry out long-term relationships with clients instead of simply looking for a steady paycheck. These long-term relationships are based on the exceptional performance of their IT systems, which makes the IT technicians strive to provide the best performance possible.
Cutting-Edge Technology
Most IT providers have access to cutting-edge technology that in-house IT staff wouldn't be able to find at an affordable price. Also, IT providers participate in ongoing training and education courses to stay up to date on the most recent technology advancements.
Outsourcing IT support allows you to cut the need to offer training and education courses for in-house staff. An IT provider can provide advanced technology and resources to help you gain a competitive edge.
Focus Your Company Strategy
As a general rule of thumb, you should strive to outsource non-core functions and focus on what you do well internally. If IT management and support aren't core competencies, it's a good idea to outsource these functions to another company and direct your staff and resources toward value and quality customer service.
An IT provider can help you produce on-time deliverables and high-quality services through the use of effective IT systems and minimal downtime. Therefore, you can increase customer satisfaction and create a stream of loyal customers, which should be every businesses primary strategy.
Reduce Risk
State-of-the-art technology comes with a significant amount of expenses to implement. If the implementation goes wrong, it's a huge waste of money and time. An IT provider can reduce the risk because the company's trained and certified technicians have implemented the technology many times.
In addition, an IT provider has a much higher obligation to make sure IT systems and services are implemented properly. It's much more difficult to sue an in-house employee for negligence than an IT provider that's upheld themselves as professional. Ultimately, IT providers assume and manage most of the risk for you, especially risk associated with security and compliance issues.
Increase Availability of IT Systems
Your network and IT systems must be running smoothly. In fact, it's critical to make sure your network is available and stable no matter what. An IT provider can watch IT systems to make sure availability with minimal downtime.
If IT issues arise, an IT provider will usually detect and resolve problems before costly downtime can occur. Most IT providers also offer 24/7 help desk support to ensure availability.
Increased IT Coverage
An in-house IT staff requires holidays, training, personal appointments, and potential sick days. It's virtually impossible for an onsite IT staff to provide the level of coverage that an outsourced IT provider would be able to provide.
Free Up Managerial Time
While your business may be profitable, management probably doesn't want to devote managerial resources to overseeing IT. IT providers strive to ensure your IT infrastructure is seamless and transparent at all times, in order to free up time for the upper level management.
Often, upper level management will be happier and more productive if the company outsources IT support. For example, time can be focused on building the brand, developing new ideas, or improving customer service.
What Should I Look For In An IT Provider?
While 100% outsourced IT isn't perfect for every business, the vast majority of businesses would benefit by outsourcing some or all of their IT support. If you're leaning towards outsourcing IT support, you're probably wondering what to look for in an IT provider. Here's a few important traits to look for in an IT provider:
A Highly Trained Staff
Look for a well-trained staff that's certified in the hardware and software your business relies on. Make sure any potential IT provider's staff is familiar with your technology, as well as your industry. An IT provider should have a thorough understanding of your company's working environment.
Experience
Often, the best IT provider will end up being the least expensive. How does this work? An experienced technician will take less time to handle IT problems, which leads to fewer billable hours. Also, an experienced IT provider will reduce the amount of IT downtime.
The Right Attitude
An IT provider should be willing to get to know your company's technology and business goals/requirements. It's important to have similar values, rather than finding an IT provider who simply fixes problems.
Quick Response Time
An IT provider should provide quick response time to get your IT systems up and running when necessary. In addition, an IT provider should provide 24/7 IT support to ensure emergencies are handled in a timely manner.
Remote Support Capability
Most IT providers provide remote support for IT issues, which allows them to log into your servers, computer systems, and software applications from their own facilities. Remote support can handle minor issues without visiting your business, thus saving you a lot of time and money.
To learn more about the benefits of outsourcing IT support, give us a call at (408) 849-4441 or send us an email at info@veltecnetworks.com. Veltec Networks can be your trustworthy IT provider and help you reap the benefits of outsourced IT support.