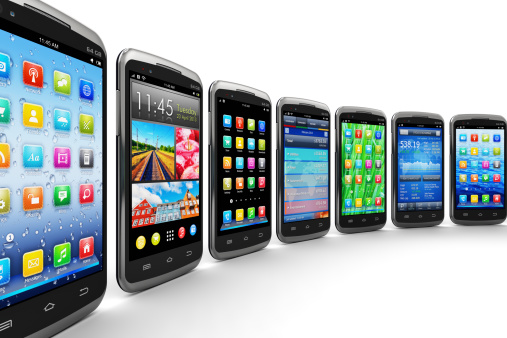 For the first time, Apple will be introducing more than one phone at one time! Over the past few months, Apple's vast supply chain in China has disclosed enough information that observers are starting to feel certain about what Apple has in store for customers. Apparently, there will be an iPhone 5S available in black, white, and "champagne" – a cross between beige and gold – which looks a bit like last year's iPhone 5. In addition, the new iPhone 5S may include double-speed video capture and a fingerprint sensor.
What does a fingerprint sensor mean for the iPhone 5S? In the past, many people have speculated that Apple would be including technology that allows the ability to tap-to-pay with an iPhone at cash registers. However, it seems like Apple's fingerprint sensor will be used to lock and unlock the phone. This adds to the iPhone 5S' security because it's extremely difficult for hackers to access.
A cheaper iPhone 5C will also be presented, with the same size screen as the iPhone 5, however, the mobile device will have a thick plastic back available in multiple colors, including blue, red, bright green, yellow, and white. The new iOS 7 software, designed by Sir Jonathan Ive, aims to brighten things up with more colors.
While a decent amount of information has been disclosed, there are two important details that have not been leaked: the price of the iPhone 5C, and whether Apple has made a deal with China Mobile, the world's largest mobile telecoms company, with approximately 745 million subscribers. These two details are expected to decide whether Apple is going to increase or decrease its current popularity.
Of course, no matter what happens, Apple will not be offering a cheap iPhone. On "prepay" without a contract, the cheapest iPhone 4 available is $450 in the US. Compared to the average price of smartphones, that's pretty costly.
Today, the US contract phone pricing structure puts a lower limit on the feasible price for a contract smartphone. With the iPhone 4 and similar mid-high range Android phones being sold as "free" on contract; phones with much lower list prices are sold at the same price, meaning a $200 phone can be sold to consumers at the same price as a $400 phone.
Essentially, if Apple sold a $300 iPhone in the US, carriers would keep the extra $100 that they charge to customers. Apple's margins are already decreasing, with the average selling price of the iPhone dropping from $613 to $581 in one quarter of a year. While a $300 iPhone could easily sell in massive numbers outside the US, Apple needs to maintain or grow its market share for profits and to keep third-party developers creating apps for the iPhone before other operating systems. In reality, many consumers prefer iPhone because they have early access to popular apps.
However, with the rise of Android popularity, some developers have started to write apps for Google's platform before Apple. The iPhone is still profitable, and Apple's sales are rising annually, but the entire market is growing at a rapid rate. In China, Android phones consume approximately 90% of the market. The more Android phones released, the more likely developers are to write apps for Android before Apple.
Furthermore, Android isn't the only threat to Apple. Windows Phone, from Microsoft, is gaining advantage and competitive edge as well. In lower-cost countries such as Mexico, Microsoft has outsold the iPhone for the past 12 weeks.
Apple is expected to launch the next iPhones in China before Christmas. Previously, there was a few months before Apple would launch their latest products in China. Nowadays, China is an important market for Apple. The bright colors of the new iOS 7 software are expected to be very popular with Asian customers as well.