Nonprofit Video Conferencing: Which Solution Is Right For You?
There is a long list of options to choose from when you need to have a video meeting with your staff. Are you sure you've been using the right one so far?
It's not too late to change – you can expect to be working remotely for the foreseeable future, so you would be smart to take your time and choose the right video meeting platform.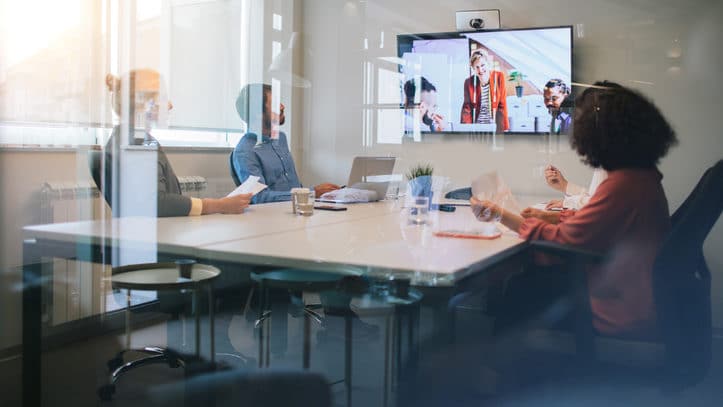 Which Video Platforms Should You Consider?
Microsoft Teams
Price: Microsoft is currently offering a free 6-month trial of Microsoft Office 365 E1, including Microsoft Teams, in response to the coronavirus outbreak.
Capacity: Teams allows up to 250 people in a meeting, and up to 10,000 spectating a live event, for up to 4 hours.
Benefits: Using Teams means you'll have access to the full integrated benefits of Microsoft 365, making it that much easier to work seamlessly between other Office-based apps (Word, Excel, Outlook, PowerPoint).
Cisco Webex
Price: Cisco offers a free plan, as well as Starter ($13.50/host per month with 50 attendees); Plus ($17.95/month with 100 attendees); Business ($26.95/month, five-license minimum, up to 200 attendees); and Enterprise (pricing available upon request).
Capacity: The Free plan offers up to 100 participants with one host, and the paid plans add on to that, with additional hosts and attendee capacity.
Benefits: The Free tier is a good option, with a large capacity, HD video, screen sharing, and recording options. Paid plans also offer cloud storage and management features.
GoToMeeting
Price: Standard version (150 members, $14/month or $12/month annually); Business version (250 members, $19/month); Enterprise version (3,000 users, pricing available upon request).
Capacity: 150 – 3000 members, depending on the plan.
Benefits: Standard audio and video capabilities, along with screen sharing features.
Google Hangouts Meet
Price: Cost is based on subscription to G Suite – Basic ($6/user/month and comes with 30GB of Google Drive storage); Business ($12/user/month and provides unlimited storage and extra security and admin controls); Enterprise (unlimited storage and advanced controls, $25/user/month).
Capacity: G Suite Basic is limited to 100, but it goes up to 150 for Business, and 250 for Enterprise
Benefits: On the Enterprise plan, you can Livestream for up to 100,000 audience members.
Zoom
Price: Zoom offers a free plan, as well as three premium plans. Pro ($14.99 per host per month), Business ($19.99 per host per month) and Enterprise ($19.99 per host per month). The key difference between the free and paid plans is that meetings are limited to 40-minutes for free users.
Capacity: The basic and pro plans allow up to 100 people can video chat at the same time using the basic and pro plans on Zoom. The business plan allows up to 300 people, and up to 500 people on the enterprise plan.
Benefits: With Wi-Fi and a webcam, Zoom supports most browsers including iOS, Android, Blackberry, Windows, and Mac, among others. Furthermore, as a part of RingCentral, you get all the additional benefits of a VoIP solution as well.
Still Not Sure Which Is Right For You?
It's OK if you're still not sure which option is right for you. Veltec Networks will help you figure out which video meeting solution is right for your nonprofit. We'll assess your organization's needs and match them with the solution that will work best for your purposes.
Click here to get started or call us at (408) 849-4441.