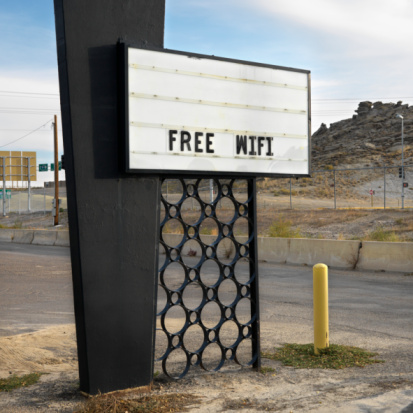 Do you know how many users are tapped into your wireless network right now? How about when you're not around?
The fact is that many small business owners have no idea who is accessing what on their wireless network, and they'd be shocked to find out just how many people are leeching their bandwidth away. Too many small business networks that we've run across have weak passwords or even the default password, and believe it or not, some still even run completely unprotected.
We cannot stress enough the importance of securing your WI-FI networks. It's not just about saving money – it's about keeping your important business IT systems safe.
As your trusted IT security team, we recommend at minimum that your business employ these two points of a wireless security strategy:
Use a password to secure your wireless network, and don't simply use the default provided by the manufacturer. The best passwords use a combination of capital and lowercase letters, numbers, and symbols, and are phrases rather than single words. Consider changing your password every so often if you're concerned about security.
Use a proper, commercial grade WI-FI access route or firewall that offers wireless access.
These two things alone are crucial to the security of your computer network, and combining them will help make sure that your network is only accessible to you and those you trust.
But having a good security system alone isn't enough when it comes to protecting your data. Do you know everyone who can access your business network? What about your home network? Almost everyone has a wireless network at home for their iPads, laptops, and even desktop computers these days. Who is accessing this network as well? How many of your kid's friends have your WI-FI access code? Not sure?
We stumbled across this very easy to use WI-FI networking tool that allows you to find out who is on your network. It can be used in your small business but also at your home.
Network Analyzer is a great tool that runs on your iPhone or iPad and tells you about everyone connected to your wireless network. There is also an Android version called Fing. Need to know if your neighbor is poaching your WI-FI connection or if that consultant in the office next door has decided to run off your network rather than buy their own? These tools will let you know everyone tapping into your WI-FI in a moment.
If you are a small business, retail store, boutique hotel, or restaurant that offers WI-FI, these tools are a must-have. They will tell you exactly what you need to know. Is a cybercriminal parked in your parking lot using your wireless network? You'll be ready to cut them off with a quick change to your security settings.
You can download Network Analyzer from the Apple iTunes store for $2.99 – CLICK HERE. Fing is available on the Android store for free by clicking here.
These tools are great, but taking care of your WI-FI network is just one piece of the puzzle when it comes to securing your business. You need to have a comprehensive IT and network security plan in place, and this is where we come in. Nothing beats having a team of computer network security experts focused on protecting your business. At Veltec Networks, we approach your IT security by analyzing your business in the same way a hacker would – looking for weak spots that could be exploited. Once we see where you're vulnerable, we can patch the holes in your defenses and keep you safe from any threat.
Call us today and book your no risk and 100% complimentary computer and network security review with our team of security experts. Call (408) 849-4441 or send us an email to info@veltecnetworks.com.
Here is your last tip: If you are concerned about who has access to your wireless network, change the WIFI encryption password immediately. Everyone will be forced to reconnect under the new password, and anyone unauthorized will be kicked off the network.