California Continues to Pass Laws Pushing for Electronic Medical Records
Is your dental practice 2020 compliant? Learn about the most recent California laws and how they press the need for electronic medical record solutions.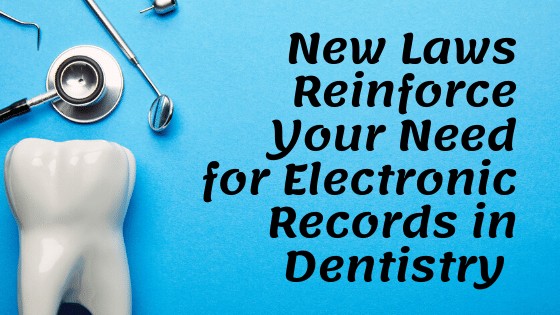 According to the CDC, over 85% of doctor's offices now manage records electronically. Yet a Colgate Health study found that many dental offices continue to struggle to see a positive cost-benefit in using an EMR system. Only 44% think they improve patient care. The resistance to electronic records management is understandable, as EMRs are an investment.
But new California laws related to patient records are both demonstrating the usefulness of managing files electronically and urging dental practices that have been slow to adopt electronic health records (EHR) to catch up with 2020 record management technologies.
How California Laws Have Shaped Records Management
Over the past several years, the state has passed several laws and codes, making electronic records management ever-more mandatory.
As you're already aware, in 1996, Section 123145 of the California Health and Safety Code required that, in most cases, a dentist keep records for seven years after the last visit.
This transformed records retention policies significantly at the time. After that, paper charts, which can get thick, now had to be stored almost indefinitely and shredded when the time came.
But the legislation continues, making it more critical than ever to switch to an Electronic Medical Record (EMR) system.
California Continues to Push for Electronic Records
In 2019, the California Business and Professions Code (BPC) §1684.1 went into effect. It requires all dental practices to provide copies of dental records within 15 days or face fines of up to $500/day over the 15 days. Keeping boxes of old charts in a warehouse or the dentist's basement hoping you'll never need to find one suddenly got even more inconvenient.
And facing the opioid crisis, we now have laws like Senate Bill 1109, which went into effect in 2019. It requires that a dental provider maintain documentation related to discussions with a minor and their guardians regarding the risks of opioids before prescribing.
Not documented; not done. You could face legal action if you no longer have those records.
Finally, within just two years, Assembly Bill No. 2789 will go into effect. It states that by January 1, 2022, all healthcare providers must have the ability to transmit ePrescriptions. That includes dentists.
Feel how you will about excessive regulations. But these and other laws do improve patient care, reduce liability risks and help streamline the record maintenance process.
Transitioning to EMR
Time marches on and each year, new laws go into effect. If you've been slow to transition to electronic records, now is the time to do so. Are you meeting the 2020 standards? We can help.
Our dental IT specialists listen and identify your practice's unique needs. We can then advise you on ways to:
Integrate EMR systems and keep them up to date
Enhance productivity, security, and patient care
Stay HIPAA- and California-compliant
If there's one thing we know, it's that we're not going back. Each year, having an effective EMR system will become more critical for both compliance and patient care. Contact us to learn more about updating to meet 2020 standards and beyond.