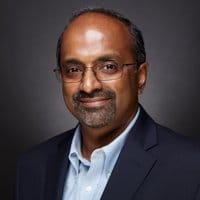 The steps to save the planet have been underway for decades. From pollution control, reducing harmful gas emissions, preventing the depletion of fossil fuels, and reducing the consumption of plastics. When each person does their part, we move closer to a cleaner earth. Should a person or company do more, than expected of them, it accelerates the protection process.
A Message To You From Duleep Pillai, Chief Business Officer, Veltec Networks Inc.
"Security is of utmost importance to me. I try to educate all of our new clients about the need for up to date security measures. Maintaining the security of business data is more difficult and critical than ever before. However, it's a huge priority, for our team and me. Because of this, Veltec Networks pledges always to use the most cutting-edge solutions to combat the latest, most sophisticated cyber threats."
Which brings up a crucial question for you and your team to ask yourselves, "Is our current managed IT Services Company doing their part or more than they are asked, to protect our company assets?" A weighty question indeed, which needs asking when assessing your vendor's performance.
A Technology startup approached Veltec Networks about current risks and numerous downtimes
For any managed IT services to do their part, they use a standard industry practice. Find the problem. Fix it and then move on. For the record, this solution is widespread in the industry and has been for years. With average IT services companies, this approach gets the client back up quickly.
For Veltec, instead of looking at the individual or specific problems and doing a quick fix, they take a step back to view the bigger picture first. Using a holistic blueprint, they begin the search, going through each stage. From planning to implementation. Their process will find the origin of the risk or downtime. Once that is completed, the necessary repairs or upgrades are the final stage of the process.
Veltec could easily have just done their part and skipped their whole process, but in doing so, would they have genuinely corrected the Technology startup's risks, numerous downtimes, and provided complete support for the client's devices? Such as their:
Networks
Servers
Desktops
Notebooks
Tablets
Cellphones
No way to know. With Veltec Network's process, they can guarantee all issues resolved.
When all was complete here is what the Technology Startup Had To Say:
"We're now experiencing fewer risks and less downtime with the Hosted Exchange. We'll soon be going to a remote server setup to ensure business continuity and to provide a better backup solution and additional security. Duleep continues to add layers of security as we need them."
Transparency – Another Area Veltec Networks Strives To Be Different
Does your managed IT services company promote quick response times? They should. It's doing their part. But advertising fast response, without details, is somewhat vague. Wouldn't you like to have a more precise time frame or advanced knowledge of what is explicitly "fast response?"
Better yet, will your MSP go on record and break it down into clear, understandable sections for you and the whole world to see?
At Veltec's website, you will not miss it. They have it posted. They are aware their competitors can see this. But as Duleep Pillai stated, he wants to educate all his clients and those considering the move over to Veltec Networks.
Their response times are broken down into four clear priorities and descriptions, along with their twenty-four hour a day, seven days a week guarantee:
Priority 1. Emergency Response – This is when your server or network is down, resulting in a total work stoppage affecting all of your users. In this case, we'll respond within two hours or less.
Priority 2. Quick Response – If your IT is just affecting performance, we'll respond within four hours or less.
Priority 3. Standard Response – This is when a single user experiences an IT frustration of some kind. We'll immediately try a workaround for the user until we can respond (typically within 2 or 3 days).
Priority 4. Scheduled Visit – We'll schedule an appropriate visit for things like new projects, additions, changes, relocations, and regular maintenance.
With Veltec Network's four priorities broken down and spelled out, you have a complete understanding what each response time covers. Specific insight allows you to be well informed ahead of time. When an IT system interruption happens, you have a simple guide at your side to aid you, while assessing your disruption(s).
With Veltec Network's "Listen First and Continue Learning" Process Clients Are Saying This:
Bay Area Tech Startup – "Veltec Networks helps our company by being there when we need them and supports our growth by keeping our networks secure and protected from hackers, viruses, cybercrime, and other threats.  Veltec is wonderful to work with, and I would highly recommend Veltec Networks to other startup companies."
Balakrishnan – "On a scale of one to five, five being the best, I give Veltec Networks a five. I would recommend them to other small-to-medium sized businesses that are looking for customized and trustworthy service. We are a happy customer!"
Be sure to check out all the resources available on the Veltec Networks website, or the helpful insights in their blog with lots of useful tips and guidance on today's technology issues from the most reliable computer support company around!