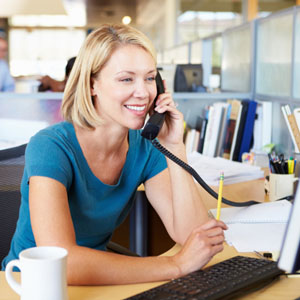 Our VoIP Business Phones Are An Affordable, Reliable, and Flexible Alternative To Conventional Phones.
Have questions about business VoIP phones? Read our Q&A on Business VoIP Phones in San Jose, CA.
Your telephones are the heart of your business communications. Email and conventional phone service are useful for daily communications with clients, vendors and employees. However, they can't compare to the capabilities that our VoIP Business Phones provide.
Email messages can tend to be "cryptic." Meanings and innuendos can be misunderstood. And, conventional phone service costs far more than it's worth. Plus, to add high-end features is cost-prohibitive for most small-to mid-sized businesses. This is why Veltec Networks' VoIP (Voice over Internet Protocol) Business Phones are an affordable, reliable, and flexible alternative to your traditional business communications.
Our VoIP network is accessible wherever you have an Internet connection—In the office, on your mobile devices, or at home.
It comes with a variety of high-end business features, easy-to-use conference capabilities, and scalability that adjusts to the size and needs of your business.
Best of all, our VoIP Service can cut your monthly phone bill in half! It provides more value for every dollar you spend.
Our VoIP Business Phones Can Save Your Money.
Our VoIP service comes with predictable, flat rate, monthly billing, with no hidden or extra costs for long-distance or conference calling.
Because our VoIP Service utilizes a Cloud connection over the Internet, vs. conventional phone cables, you pay far less for the same service you'd get from a traditional phone company.
Our VoIP Solution can be adapted to your unique requirements. You can choose the size and scope of your services, and readily change them as needed.
Get The Features You Require.
Veltec Networks' VoIP Business Phones feature user-friendly interfaces for your network, whether you use them on a physical phone, a computer, or a smartphone.
You get reliable, Cloud-based access to your VoIP service on any Internet-enabled device. This means you can use the same network in the office, at home, and on your mobile devices, with one phone number everyone can remember.
Plus, you can leverage advanced business-class features that are typically only available with an expensive PBX network, such as:

Music-on-Hold
Easy-to-Set-Up Extensions
Automated Phone Attendants
Conference Calling
Desk-to-Desk Calling
With Veltec Networks' VoIP, You'll Always Have Phone Service When You Need It, Because:
We monitor your VoIP Network 24/7 to ensure 99.9% uptime.
We include built-in Disaster Protection.
Your solution is hosted in the Cloud, it's safe from anything that could damage your in-office equipment, and it will always run, even if your physical phones won't.
Your business provides the best support for your clients. Shouldn't your phone system do the same for you?
[list-random-testimonial]
Veltec Networks' VoIP Business Phones ensure this. Contact us today at (408) 849-4441 or info@veltecnetworks.com for more information.