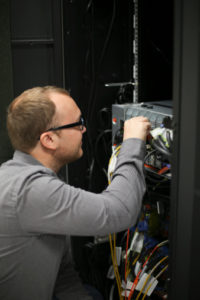 We've got good news! If you're looking for more depth and dimension from your California IT services provider, you have a champion right here in San Jose CA with Veltec Networks. We've set ourselves apart from the "run-of-the-mill" California IT companies by seeking to master every conceivable facet of information technology and communications, and pass that mastery on to our valued clients in the form of better service deliverables. One look at our site map will tell you that our capabilities take every part and parcel of IT network infrastructure and service protocol into account, including:
Client-Friendly California IT Support
We don't tell you what you need without first listening to your own needs, concerns, and objectives. This helps us develop a customized strategy that best fits your operational goals, infrastructure, and business model. Learning everything we can about our clients and their enterprises allows us to render the most integrative and long-range IT solutions possible.
Our Area of Influence
We primarily serve the greater San Jose CA area, but can assist any Bay Area business with comprehensive IT support that goes further than most California IT service companies do, with end-to-end coverage designed to anticipate and prevent problems before they get the chance to act up. Our IT support team is solution-driven, and we don't bill you until the job is done exactly to your specs, and perfectly suits your operations requirements.
Get Unparalleled California IT Services
Why not get the best IT services for your business in California, courtesy of Veltec Networks? As one of the leading IT companies in California, we invite you to call us today at (408) 849-4441 and discover the meaning of total IT-support satisfaction!